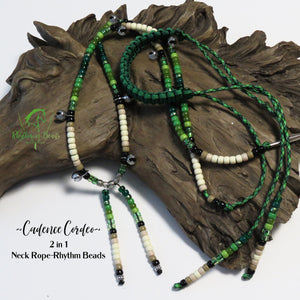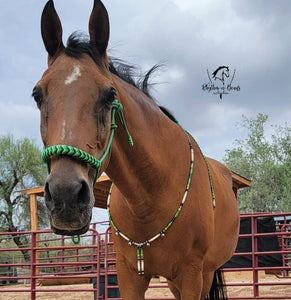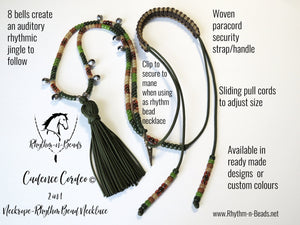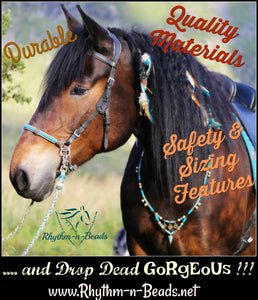 Rhythm-n-Beads
2 in 1 Cadence Cordeo© Neck Rope-Rhythm Bead Necklace - FOREST
Regular price
Sale price
$48.00
---
"FOREST" Cadence Cordeo w/8 bells & beaded tails, in shades of green, ivory, sand, taupe, black with beaded tails.

*R-n-B's "2 in 1" Custom Cordeo-Neck Rope incorporates beautiful beadwork with the calming sounds of bells.

The neckrope is adjustable from apx 48"-72". If this size range does not work for you, *Please advise at checkout in 'Special instructions for seller'  the following custom measurements
1. length required for use as a rhythm bead necklace.
2. length required when used as cordeo.

***This cordeo comes in a mixed green base with 2 tone green wrap.

*OPTIONAL CLIP can be added, for securing to the mane should you want to use them as regular rhythm beads, with the braided keeper acting as a security handle to grab in those 'oh oh' moments.

* The neck rope itself is made of 550 paracord.

Our neckropes are perfect for Bridleless, Freestyle Riding, and Liberty Training. A great tool to help create light communication between you and your horse. Our adjustable Horse Training Neck Rope fits easily by sliding over the horse's head and can be adjusted to preference of length by shortening or lengthening the beaded tassel ends by pulling through the sliding braided keeper.

*Are you ready for the next phase in you and your horse's relationship?
Does your horse already neck rein and stop easily with light rein pressure or voice command?
If so, then you may want to give RnB's cordeo-neck rope a try.
In the security of your round pen or arena, while you have your current bridle & reins on for back-up, simply communicate and steer your horse with the aid of the neck rope, voice & leg commands. This is the next phase before transitioning to bridle-less riding and last step before tackless riding, but only you and your horse know your limits and if this tool is suited for you two.

Email rhythmnbeads [!at] gmail.com if you have any questions.

🐎Please note: Rhythm-n-Beads cordeo-neckrope-rhythm beads with our signature features is our exclusive design.
Reproduction of this style is not permitted


🐎Be sure to FOLLOW RnB on FACEBOOK & Pinterest and get sneak peeks of NEW products & specials!
🐎As FB fans of R-n-B, you'll also be eligible to enter our fabulous giveaways and contests!!!
www.facebook.com/rhythmbeads

🐎What are RHYTHM BEADS?
.....'Equine Rhythm Beads', also known as speed beads, bear bells, horse necklaces, cadence beads or horse beads, not only enhance the natural beauty of your horse, they create an auditory learning experience and are a valuable training aid used to improve performance, and are quickly gaining recognition & wholehearted support from jumpers, gaited horse riders, endurance riders, dressage riders, trail riders, barrel racers & horse trainers of all breeds & disciplines around the world.
Rhythm Beads encourage your horse to follow a rhythm or cadence, much like a musician to a metronome through timed beats. The soft jingle of the brass bells accentuates the rhythm of horse's gaits, which is useful for adjusting the tempo/rhythm of the horse's movements. The bells help the rider pick up the correct diagonal and detect whether they are cantering/loping on the correct lead.
Rhythm beads are an excellent resource for all riding disciplines, including training and desensitizing young horses. On the trail, the bells are useful for alerting both wildlife and other riders that you are approaching. The subtle and soothing jingle of the bells create a 'white noise' effectively blocking distractions in the arena or on the trail.
Also known as 'Speed Beads', rhythm beads have been used to encourage a faster and harder pace for speed events.

Rhythm-n-Beads® ...'helping horses and riders ~Add Rhythm To Your Ride™~ ....Happy trails from Deborahlynn!


Rhythm-n-Beads® ... Quality products, proudly handmade is the USA and shipping worldwide to satisfied customers since 2006


Copyright and Trademark Notice
Rhythm-n-Beads ® ©2006
'Add Rhythm to Your Ride' ©™2006
Feathers n' Flair~ ©™2007
Mane Mantle ©2015
Cadence Cordeo ©2021

Owner/designer ~ Deborahlynn Sherwood
Rhythm-n-Beads own the copyright on all design elements and content on this page.
All rights reserved.
You may not download, copy, reproduce, republish, upload, post, transmit, or distribute any material.
All photos or artwork representing our products, shown on www.Rhythm-n-Beads.net website, Etsy, Pinterest, FB or any other retail outlet, are sole property of Rhythm-n-Beads.
Do not copy, borrow, use, lift, display, or post our designs as your own work.