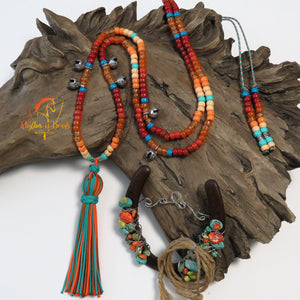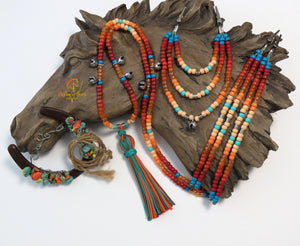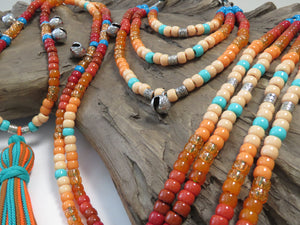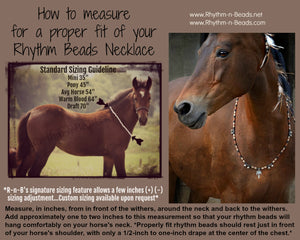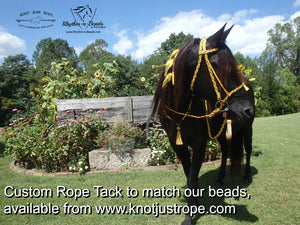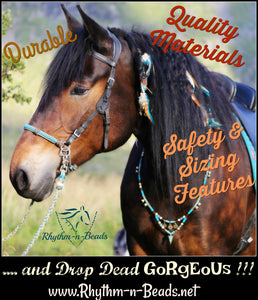 Rhythm-n-Beads
Indian Summer 2 Rhythm Bead Necklace
Regular price
Sale price
$42.00
---
Beautiful 'classic necklace style 'INDIAN SUMMER 2' rhythm bead necklace with tassel and silver bells .
*Select your size or other available options
*You also have the option of adding a pair of coordinating beaded mane clips and/or tail swag with bell, or you can make it a 4pc set.
***FEATHERED MANE OR TAIL BEADS PLUS OTHER ACCESSORIES ARE AVAILABLE TO MATCH YOUR NECKLACE. THEY ARE LISTED SEPARATELY AND CAN BE ORDERED ON THEIR OWN CATEGORY PAGE. SIMPLY INCLUDE A NOTE STATING WHICH NECKLACE DESIGN YOU WOULD LIKE THEM TO MATCH***
🐎 You can also request a Custom set of rhythm beads with a variety of accessories to choose from, and spice them up with optional horsehair tassels, pendants, & feathers.
🐎Email me and we can start designing your CUSTOM set of rhythm beads today.
rhythmnbeads [!at] gmail.com
https://www.pinterest.com/rhythmnbeads/
🐎Be sure to FOLLOW RnB on FACEBOOK & Pinterest and get sneak peeks of NEW products & specials!
🐎As FB fans of R-n-B, you'll also be eligible to enter our fabulous giveaways and contests!!!
www.facebook.com/rhythmbeads
🐎What are RHYTHM BEADS?
.....'Equine Rhythm Beads', also known as speed beads, bear bells, horse necklaces, cadence beads or horse beads, not only enhance the natural beauty of your horse, they create an auditory learning experience and are a valuable training aid used to improve performance, and are quickly gaining recognition & wholehearted support from jumpers, gaited horse riders, endurance riders, dressage riders, trail riders, barrel racers & horse trainers of all breeds & disciplines around the world.
Rhythm Beads encourage your horse to follow a rhythm or cadence, much like a musician to a metronome through timed beats. The soft jingle of the brass bells accentuates the rhythm of horse's gaits, which is useful for adjusting the tempo/rhythm of the horse's movements. The bells help the rider pick up the correct diagonal and detect whether they are cantering/loping on the correct lead.
Rhythm beads are an excellent resource for all riding disciplines, including training and desensitizing young horses. On the trail, the bells are useful for alerting both wildlife and other riders that you are approaching. The subtle and soothing jingle of the bells create a 'white noise' effectively blocking distractions in the arena or on the trail.
Also known as 'Speed Beads', rhythm beads have been used to encourage a faster and harder pace for speed events.
Rhythm-n-Beads® ...'helping horses and riders ~Add Rhythm To Your Ride™~ ....Happy trails from Deborahlynn!
🐎Necklace or Breast Collar style rhythm beads plus coordinating accessories for mane, tail, saddle, bridle, trail packs are available in our online store.
Rhythm-n-Beads® ... Quality products, proudly handmade is the USA and shipping worldwide to satisfied customers since 2006
🐎FEATURES:
We have designed our necklaces with safety in mind. The materials we use include:
-Acrylic crow beads
-synthetic para cord with a 110lb breaking point for the horse's safety
-alligator clip to securely fasten the beads to your horses mane
- adjustable sliding sizing toggle
-genuine brass/gold or polished silver chrome plated brass bells
* Unless specially requested, the 'Mini' size necklace comes with 5 bells *
🐎SIZING:
Select your size: Mini 35", Pony 45", Horse 54", Warmblood 64" Draft 70"
***Each strand of beads can be manually adjusted a few inches (smaller or larger) with our sliding toggle... pretty easy!***
The placement of the clip is adjustable, and the above sizes will accommodate most horses, but should you require a special size, please send an email at rhythmnbeads@gmail.com to request a customized size.
Rhythm Beads should fall on the horse's neck right at what is known as the drive line". This is the area just in front of the shoulder. The beads should not be loose or tight; they should be comfortable. They should not hang down on the horse's chest. They should clear any tack such as a breast collar or martingale.
***See our website for our NEW signature 'Breast Collar' style rhythm beads!***
🐎MEASURING:
Measure, in inches, from in front of the withers, around the neck and back to the withers. Add approximately one to two inches to this measurement so that your rhythm beads will hang comfortably on your horse's neck. *Properly fit rhythm beads should rest just in front of your horse's shoulder, with only a 1/2-inch to one-inch drape at the center of the chest.*
🐎SAFETY:
Rhythm Bead necklaces are intended for use when riding only. ***DO NOT tie, trailer, stall or pasture your horse with the necklace on. Attach the alligator clip to the mane only, not the saddle, saddle pad or breast collar***
You may need to take the time to desensitize your horse to Rhythm Beads before you use them as you would with any new piece of horse tack. You and your horse will find the sound of the bells to be very comforting.
🐎MAINTENANCE:
Rhythm beads can be gently washed in warm soapy water, then rinsed well, and hung to dry.
If your bells get a build up of tarnish due to horse sweat, simply clean with Brasso cleaner or a jewelry cleaning cloth.
When not in use store in a dry place wrapped in natural cotton.
Be sure beads and bells are thoroughly dry before storing.
*** Avoid the use of fly spray, or use sparingly, in the area of necklace as the chemicals in it may cause bead and bell discolouration***
Copyright and Trademark Notice
Rhythm-n-Beads ® ©
'Add Rhythm to Your Ride' ©™
Feathers n' Flair~ ©™
Mane Mantle ©2015
Owner/designer ~ Deborahlynn Sherwood
Rhythm-n-Beads own the copyright on all design elements and content on this page.
All rights reserved.
You may not download, copy, reproduce, republish, upload, post, transmit, or distribute any material.
All photos or artwork representing our products, shown on www.Rhythm-n-Beads.net website, Etsy, Pinterest, FB or any other retail outlet, are sole property of Rhythm-n-Beads.
Do not copy, borrow, use, lift, display, or post our designs as your own work.